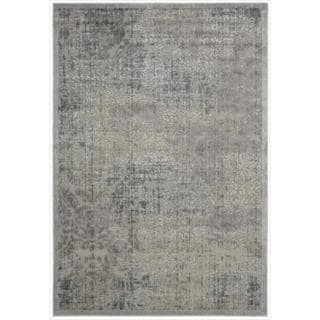 One thing that definitely gave me sticker shock when furnishing my apartment was the price of rugs. Rugs can be crazy expensive, and I just felt like even if I had the money in my budget to buy a more expensive rug, I can't possibly spend that much on a rug. However, a rug is an important decor item to any space because it takes up a big amount of visual real estate in a room. For that reason, if you're shopping for a rug, you want it to really complement the space and pull a room together. It was hard to find rugs that I liked for under $300 (especially for larger sizes like 8 x 10) but it is possible to find a gorgeous rug at your price point if you know what you're looking for!
Rugs for under $300
________________________

Tips for Choosing a Rug
Low Pile or High Pile?: Do you want a thicker rug with looser & longer strands (high pile) or a thinner rug with tighter threaded strands (low-pile)? It is really up to your personal preference, but I personally choose high pile rugs for areas that are not prone to high foot traffic or for areas where people might be sitting on the floor at times.
Dining, classic, or floating?: The second most important factor is determining where exactly you will place the rug & how big the rug needs to be. Dining (named as such because this is the usual rug placement for dining rooms) means that the feet of your furniture are not touching the rug. Instead the rug is in between all your big pieces, and is usually grounded by something like your coffee table. Classic means that the front feet of your furniture is on the rug as well as any side chairs or armchairs. Floating means that all four feet of your furniture is on the rug along with your other furniture such as side tables, the coffee table, etc. It essentially creates a large defined zone of space.
Natural Fibers or synthetic?: Wool, jute, hemp, & cotton are all natural fibers whereas acrylic and nylon are synthetic. The obvious reasons on why you would opt for synthetic is if someone in your household is allergic to wool or another natural fiber. Another reason is which one (literally) feels better for you under your feet. If your household is very active, or you have kids, synthetic fibers are more resistant to stains and are better at hiding wear over time. That being said, the general consensus is wool is has the best lifespan out of all rug materials. Wool however usually sheds for the first 2-3 months of ownership, so be prepared to vacuum! Synthetic rugs do not shed.
________________________

Alternative Option to a Rug
Carpet Bound Rug: For a slightly cheaper option, or if you want a rug in a custom size, you can opt for a carpet bound rug. It's exactly as it sounds, and essentially it's carpet cut and bound into a rug.
________________________

Concluding Remarks
Last reminders! Don't forget to purchase a
rug pad
! It's essential if you are putting the rug on wood floors and don't want your furniture to slip & slide everywhere. I also cannot stress the importance of measuring! Decide how you want to place the rug and then measure out that space. Filtering your search results according to rug size will save you a lot of time and headache! I love shopping for rugs because I like imagining how the rug will pull together all my furniture, but at the same time I hate it because it sucks up a lot of time in trying to find the right piece for the right price. Nevertheless, I hope this post was helpful!
Happy decorating!