Real Techniques Expert Face Brush
To all my American readers, I hope you had a delightful 4th of July! As you can tell from the title of the post, the topic of the day is makeup brushes. I kind of have a love/hate relationship with makeup brushes. On the one hand, they really do make a difference in the way you apply your makeup. On the other hand, they require constant upkeep, washing, and you're never quite satisfied with your current collection. That being said, there are a lot of makeup brush brands out there to buy from and it can get a bit intimidating on what brush to buy from each brand. To get rid of some of that intimidation, I wanted to do a series on brushes categorized by price point and pick some choice brushes in each price point category. The first brush series post will be for all you bargain beauty shoppers out there!
This post will be on drugstore brush brands with all brushes being under the $20 price point. If you're just starting to get into makeup and makeup brushes, drugstore brushes are the perfect gateway product! Luckily, there are actually a lot of great drugstore brands that make affordable but quality brushes. However, keep in mind since all of the brushes frequently range between $8-$15 among the drugstore brands, most of the brushes will be synthetic bristled brushes. Synthetic brushes are best used for liquid products (think liquid foundations, cream blushes, cream eyeshadows, and gel-liners) since they pick up the product better. Of course you can use synthetic brushes on powder products as well, but you just won't get the color payoff like you would with a natural bristled brush. My suggestion is to buy brushes according to the makeup products you use. For example, if you prefer liquid foundations, buy a synthetic bristled foundation brush. If you usually wear powder eyeshadow, splurge a little more and buy a natural bristled brush. It pays off in the long run and makes applying your makeup easier & better.
I have to mention that my personal favorite drugstore brush brand is Real Techniques. They make great affordable brushes that really give you a lot of bang for your buck. The
Pixiwoo sisters
, who are famous among the Youtube beauty guru world, are the creative directors behind Real Techniques. My most favorite brush out of all their brushes is the Expert Face Brush. At only $10, it was a great buy and the brush's results rival that of my more higher end foundation brushes. Although they have a limited offering of brushes, you can't go wrong with Real Technique Brushes. Another close contender is Sonia Kashuk brushes. The brand has two lines of brushes - the more affordable brushes that have the white handle, and the slightly more expensive brushes with the black handle. They're only sold at Target, but they have a more extensive range of brush offerings than Real Techniques. Below are some of my suggestions for brushes in the drugstore price range.
Foundation Brush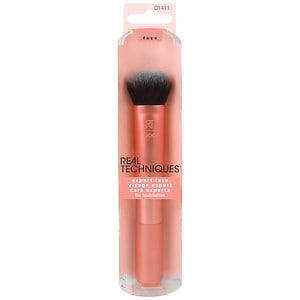 Real Techniques Expert Face Brush // Price $9
(personal favorite)
Kabuki/Bronzer Brush
EcoTools Domed Bronzer Brush // $10
Blush Brush
Sonia Kashuk Dense Blush Brush // $17.19
Eyeshadow Brush
Boots No7 Eyeshadow Blend & Contour Brush // $7
(MAC 217 dupe)
Eyeliner Brush
Japonesque Angled Liner Brush // $15
(can double as a brow brush!)
More to come!! I'll be writing about more brushes in forthcoming posts ranging from $20+ dollar brushes, to super luxury brands that have brushes priced at more then $70! Stay tuned & hope this was helpful!
Shop the Post